This App offers a new way for the Leaders of the church to attend to the needs of members, offer pastoral care and supports
City of David (COD) is a community Church in Cambridge United Kingdom, vibrant and multicultural where people from diverse nationalities connect as families.
RCCG CITY OF DAVID CAMBRIDGE
Available on WEB, IOS and andriod:
During the Covid 19 pandemic there is a paradigm shift from the physical church system to a digital church system, which brought about more use of the video conferencing platforms such as Zoom, Microsoft Teams, Team Link, Mixlr e.t.c, provided at a high cost.
Therefore keeping members of the church connected and providing support to families was challenging for the Leaders of the church.
• Limited communication and interaction with member/ potential members
• Un-easy access to Online Church
• Limited access to uplifting words

An app was built to help bridge the gap between the Church Leaders and the members through an end-to-end chat system, easy access to the church contents, and video communication system.
This App was designed to provide a cost effective, secure, easy video conference system without limiting church services and members interaction with church program. Designed with limitless access to faith based, uplighting talks and content not only from their local Pastors but related Ministers around the world.
The video system with an easy to use UI allowed church groups (from children to elderly) to meet and plan for upcoming events depsite not meeting face to face. Groups were able to meeting with each other to pray, discuss and counsell one another.
It is also an easy means of communication to potential member who might discover the app on their mobile store or through any other means. It is also a follow up tool for first time attendees and visitors etc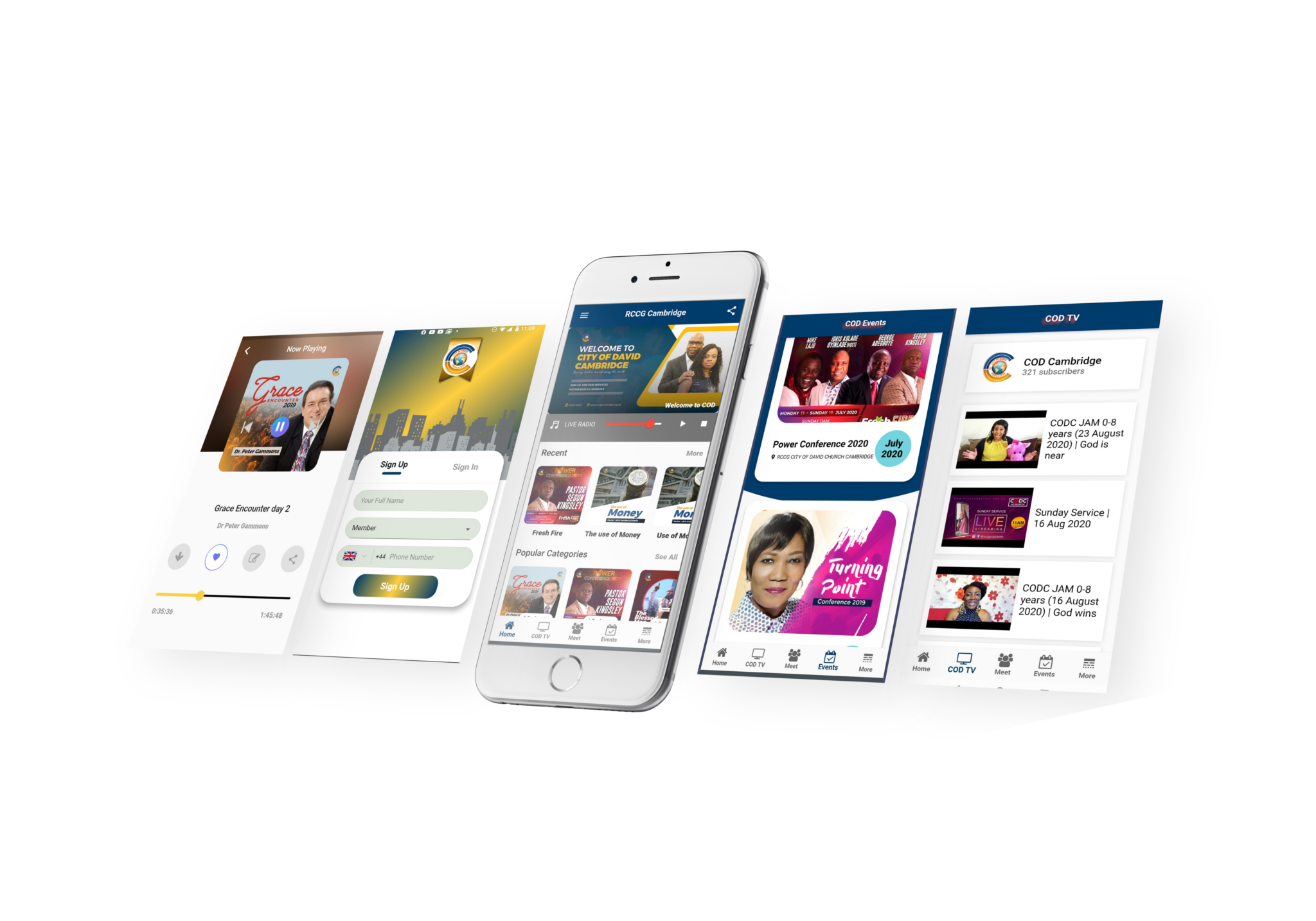 After our discovery workshop, where we agreed on the design and scope, this Web and APP platform was built from scratch with React Native and Javascript for the frontend, and Python and Php for the frontend. 
After the MVP product was delivered, COD CAMBRIDGE has been actively using the App for their mid week services and meetings.
This is how we made it happen:
• Organized a workshop to agree on a flexible scope and translate the client's idea into tangible deliverables.
• Creating a user-friendly design for non-tech-savvy users
• Create a presentable mock up of the project which was shared among the stakeholders
• Development, Test, Sign Off