USER EXPERIENCE DESIGN (UX)
What is User Experience (UX) Design?
UX design is the design of the elements that determine the interaction a user has with a product or service. UX design involves the design of the entire process of acquiring and integrating the product, including aspects of branding, design, usability and function. UX design considers how a product makes the user feel, and how easy it is for the user to accomplish their desired tasks. This could also deal with how straightforward the checkout process is when buying something online. The goal of UX design is to create easy, efficient, relevant, and all-round pleasant experiences for the user.
Factors that influence UX
There are seven key factors to a solid user experience. This diagram is known as the User Experience Honeycomb.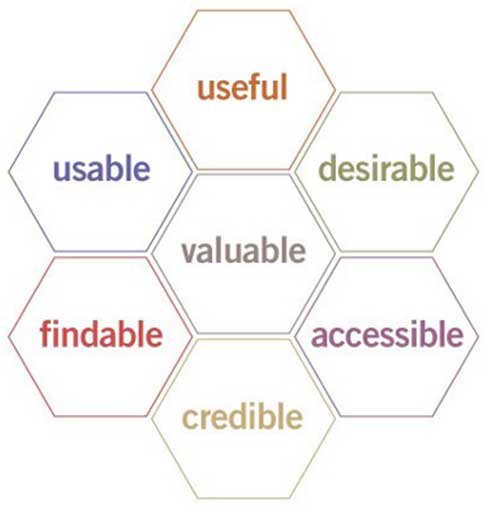 Useful: Your content which you are pushing out must fulfill a need and must be authentic. Customers should find informations on your site useful.
Useable: Your website must be easy to use and must be quick to respond
Desirable: Image, identity, brand, and other design elements must catch the attention of users and must be appealing to your clients.
Findable: Contents/Information should be accessed easily with no distractions, site navigation should not be complex
Accessible: Your website and the contents on it should be accessible by all, even by people with disability.
Credible: Users must trust and believe what you tell them. In other words, informations on your site must be truthful.
Valuable: Your website content, design, and functionality should provide value for users.
Here are the key factors and what it entails
Everything on your website, from the domain name, marketing copy, page speed and CTA's contributes to a user's overall experience with your brand.
Reasons to Care about your website UX Design
Brand Reputation
Studies have shown that first impressions are 94% design-related. Almost a large amount of users will not recommend a business that has a badly designed mobile site. From the device, your visitors use to access your website to the appearance of your website, the overall UX of your site can have a lasting effect on your brand's online reputation.
Customers Loyalty
Bad mobile experience will makes users less likely to engage with a company, and most likely go search for another company with good mobile experience. Customers won't stay on your website if it is not optimized with the information they need. If your brand is struggling to retain or generate customers, consider improving the UX of your website.
Sales
If your business is using a website to drive online sales, User Experience needs to be your top priority. A website with a good User Experience design has a large effect on the Clients decision to buy your products or request for your services.
Taking the time to ensure your site is easy to navigate and provides something of value gives your viewer a much more meaningful and useful experience. And, most importantly, gives them a reason to return.